Use Giving Assistant to save money and support People Acting in Community Together Inc.
Edit Template

BUILDING A WORLD WHERE EVERYONE BELONGS, EVERYONE THRIVES, AND HAS AGENCY OVER THEIR LIVES.
PICO California supports grassroots organizing which enables people of faith to build power to reshape their lives and their communities. Our network of organizations trains leaders and equips them with tools to fight racism and build a more equitable and just society.
PICO California is the largest multi-racial faith-based community-organizing network in the state connecting and leveraging the power of the people to impact broad systemic change. Motivated by various prophetic traditions, we ground our civic action and demands for change in moral and ethical principles. We use a relationship-based organizing model to develop leadership and build capacity for civic engagement in communities throughout California.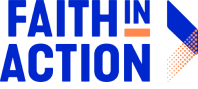 PACT is an affiliate of the Faith in Action, with more than 1,000 member institutions representing one million families in 150 cities and 17 states, PICO is one of the largest community-based efforts in the US. PACT also works with its 20 sister organizations as part of PICO California on statewide issues to improve public schools, make neighborhoods safer, and revitalize democracy.
A PEOPLE-POWERED MOVEMENT
IS BEING CREATED
Edit Template